Consumed by rock music, animation and superhero comic books since age four, writer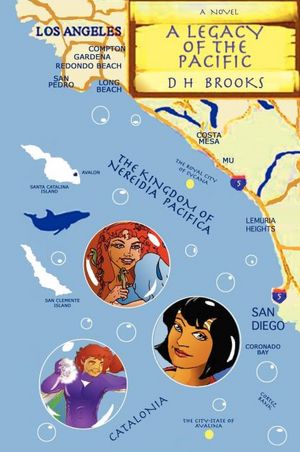 D H Brooks studied Creative Writing and Comparative Literature at California State University Long Beach, working toward a degree in Electronic Media. Having developed a great interest in Atlantis-related subjects, Ms. Brooks first wrote of the aquatic denizens of Nereidia in comic book form in 1993. She later supplied research notes for TechTV's 'pop-up' version of the Gerry And Sylvia Anderson series "Thunderbirds" ™, as well as material she licensed to A&E Home Video for the DVD "The Best Of Thunderbirds." A lifelong Southern California resident who well remembers the Helms Bakery, milk delivery, the many local dairies and the dwindling vernacular architecture of the area, the author lives in Los Angeles, never far from her beloved Pacific Ocean. Ms. Brooks is a member of the Society Of Children's Book Writers And Illustrators, The Greater L.A. Writers Society and Children's Book Insider and has been a sustaining member of Comic-Con International for over eighteen years. "A Legacy Of The Pacific" is her debut novel.
Books-and-Authors.net: Where did you grow up and was reading and writing a part of your life? Who were your earliest influences and why?
D.H. Brooks : I grew up just outside of Gardena, CA, not far from San Pedro and other southland beaches. Watching the waves crash, the scent of the sea air and picnics at Point Fermin were part of many a Sunday growing up. Reading was another key factor of my childhood. My mom, a teacher, taught me to read by age three; I skipped kindergarten and started school the next year. My favorites were "Peter Pan" by J.M. Barrie and "A Child's Garden Of Verses" by Robert Louis Stevenson, but my great love was superhero comics, particularly "Aquaman" and the "Teen Titans," since they had Aqualad in common. I was soon hooked on rock music, which became my passion, hence the many veiled musical references in my novel.
Books-and-Authors.net: Discuss your new book "A LEGACY OF THE PACIFIC".
D.H. Brooks : "A Legacy Of The Pacific" was bolstered by my interests in both ocean preservation and mythology, particularly that of Atlantis. The tale concerns the mythical kingdom of Nereidia Pacifica and its royal family. Three royal siblings who were raised separately, two of them in deprivation, form the main cast. As with most siblings, the three struggle to get along, but in the case of Princesses Lile and Ciona and little brother Prince Solas (nicknamed 'Pincin'), there is a dire need for them to unify. When their nation comes under siege and the entire western coast of the United States is set for destruction, the trio find that their amazing innate abilities are most effective when they keep their emotions in check and work together for the good of all.
Books-and-Authors.net: "A LEGACY OF THE PACIFIC" began as a comic in 1993 -- Explain your interest then in writing a comic book and now turning it into a novel?
D.H. Brooks : In 1993, a friend and I challenged each other to develop a comic book. That's when "A Legacy Of The Pacific" was born. I performed all of the functions to create a single issue, in the process gaining true respect for those who write, draw, ink and color such epic little tales. Unfortunately, 'real life' halted my writing interests and the story sat dormant for fifteen years. I considered recreating the tale as a graphic novel but had to accept that my hands, due to occupational injury, were no longer up to the task. Instead, I wrote the story in novel format.
Books-and-Authors.net: What makes "A LEGACY OF THE PACIFIC" different from other books in its genre?
D.H. Brooks : "A Legacy" seeks to transport the reader to a world never before imagined, one which, in reality, is the most vital on our planet, yet also the most threatened and vulnerable. While the tale deals with teens coming of age, a theme with which both kids and adult can relate, it also introduces the serious issue of the insoluble waste materials and chemicals polluting the Earth's largest ocean. Nereidia Pacifica is introduced to my readers through the eyes of Princess Lile, the single-minded teen who divides her time between a life on land and within her own watery realm. Self-centered but fiercely loyal to her subjects, Lile gains valuable lessons about life through her brave siblings, her valiant cousins and some mysterious visitors from far-flung parts of the globe. Like all of us, she thinks she is sure of what she wants in life, but her experiences lead her to question all which came before.
Books-and-Authors.net: Do you do all of your illustrations?

D.H. Brooks : Yes, I'm afraid so; I like the challenge of it. I've always enjoyed drawing and painting, though I've never had the opportunity to take lessons.
Books-and-Authors.net: If Hollywood called and asked you to cast "A LEGACY OF THE PACIFIC" - Who would you cast and why?

D.H. Brooks : Since I am sure this would be an animated affair, I would probably cast Emma Watson as 'Lile,' Cree Summer as 'Ciona' and Asa Butterfield as 'Pincin.' For the romantic 'Asterus,' I would pick Rupert Friend, Phil LaMarr as the dashing 'Curadh,' Steve Zahn as his wisecracking friend 'Liam,' with Kevin Conroy as the sinister 'Lord Lachlan.' For the 'Queen Of The Merlands,' I envision an amalgam of three mature voices to represent her status as the mother of the Earth's waters, so I would meld the voices of Helen Mirren, Whoopi Goldberg and Fionnula Flanagan. Eric Idle would play the befuddled 'Uncle Eionn,' Billy Connolly would play 'Roj The Fiend' and Jean Dujardin would voice the cavalier 'Sir Denis-Remigius.' The skirling-style guitar soundtrack would be written by Midge Ure and Chris Cross of Ultravox. It all sounds perfect in my mind, so I would love to see that transferred to the screen.
Books-and-Authors.net: What should readers learn from reading "A LEGACY OF THE PACIFIC" ?
D.H. Brooks : The focus on world mythology illustrates that throughout history, all of mankind feared and respected the might and majesty of our waterways, yet, in our own time, we have forgotten how vital the oceans are to our continued survival. My hope is that these very human characters and their sea animal friends will cause readers to care for their environment and the welfare of all of Earth's seas, oceans, lakes and rivers.
Books-and-Authors.net: What are readers saying about "A LEGACY OF THE PACIFIC"?
D.H. Brooks : Happily, they are saying that they very much like the characters, particularly the winsome and dizzy Princess Ciona, as well as Liam, who uses sarcastic wit to mask his displeasure with his lot in life. Most readers have mentioned that they enjoyed my description of the lush oceanscape in which the characters reside. Many have said that they liked the quick pace of the plot and the political intrigue, as well as the witty banter between the cast. I am quite glad of that because I find writing comedy a joy.
Books-and-Authors.net: What do you hope to achieve with "A LEGACY OF THE PACIFIC"?

D.H. Brooks : "An absence of mood swings and some stability in my life." I stole that line from Lisa Simpson. Ideally, I would be quite happy to be able to use these characters to raise awareness and funding for organizations which seek to save our oceans and protect precious sea life, particularly our endangered California sea otters.
Books-and-Authors.net: What was the last book you read?
D.H. Brooks : "A Princess Of Mars," from the "John Carter Of Mars" series by Edgar Rice Burroughs.
Books-and-Authors.net: What's next?

D.H. Brooks : "A Legacy, Book Two: The Vineyards Of Atlantis," hopefully by the end of 2012, if I can ever find the time to write.